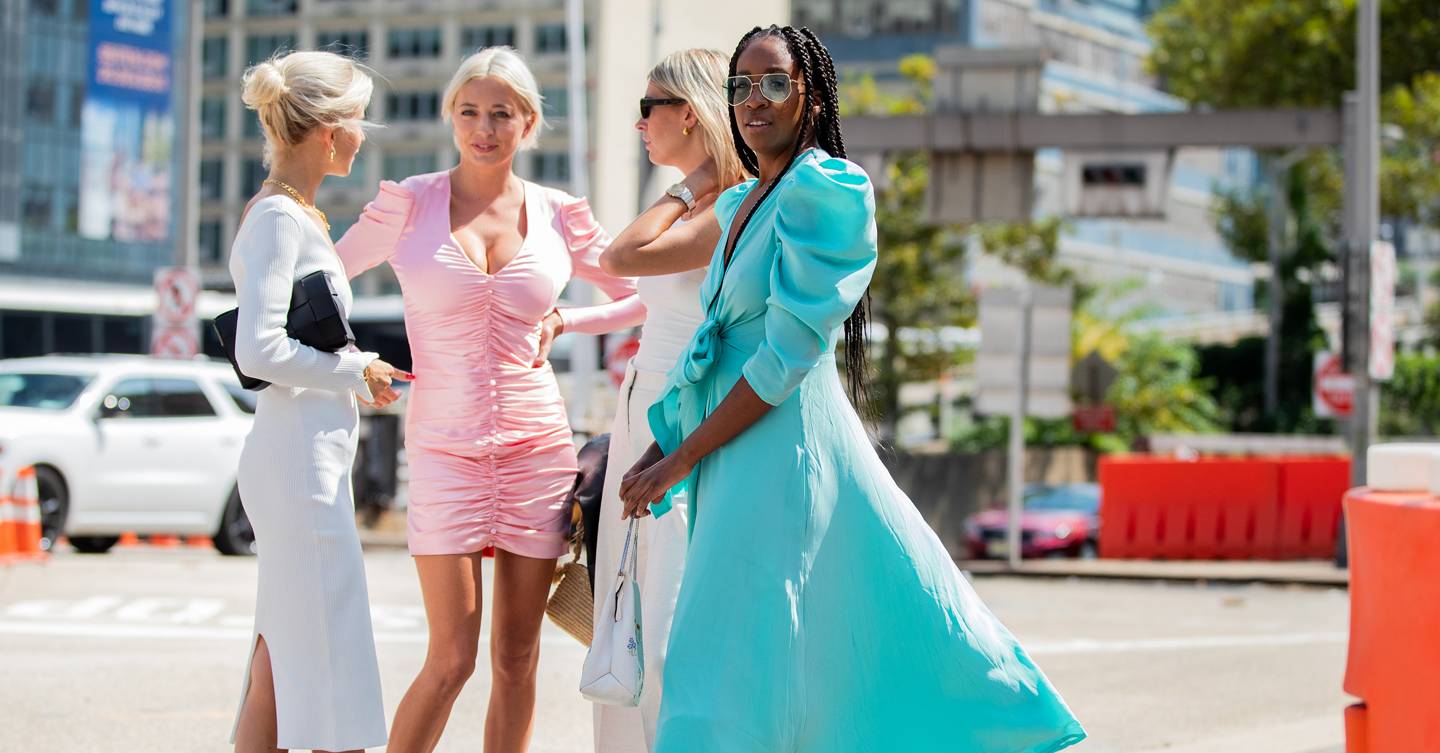 The Summer Dress You Should Wear According To Your Star Sign
Table of Contents CAPRICORN21 December–18 JanuaryAQUARIUS19 January–17 FebruaryPISCES18 February–19 MarchARIES20 March–18 AprilTAURUS19 April–19 MayGEMINI20 May–20
We may have been praying for and heavily manifesting this weather for the last three months, but it seems that now summer has officially – touching lots of wood – arrived, we're not quite as prepared as we thought we were.
In preparation for a forecasted 27°C this weekend, we've panic bought vat-like bottles of factor 50, reacquainted ourselves with last year's viral dalgona iced coffee recipe and cleaned our balcony furniture, but it seems – after a year in varying rotations of loungewear – our wardrobes are proving a little trickier to transition.
If you're struggling to find *the* summer dress of your dreams, the one you imagined yourself wearing as you re-emerged into society like an overripe butterfly the minute Boris Johnson first uttered the words 'June 21st', fear not. Perhaps due to the pressure we, ourselves, are putting on our post-pandemic wardrobe, it's been trickier than usual to rediscover our love of a good old-fashioned summer dress.
Here's what your horoscope has in store for you this June…
So why not look to the stars for the answer? We trust our horoscopes to foresee our most intimate and important life events, why not rely on it for a little sartorial nudge too?
Here is the summer dress you've been looking for all along, according to your star sign…
CAPRICORN
21 December–18 January
THE HERITAGE VINTAGE DRESS
You're ambitious and persistent, but there's no denying that your realism and disciplined practicality take over when it comer to your style. The undisputed queens of a capsule wardrobe, you know what you like and you know exactly where to get it. Heritage labels are your weakness, however, and when there's a timeless vintage Chanel piece available – that you can see working for any occasion – no other buyers stand a chance.
£1,103, Vintage Chanel, Buy It Now
AQUARIUS
19 January–17 February
THE HAND-DESIGNED DRESS
Your creative, original, free-spirited vibe really becomes apparent when we so much as take a peek inside your wardrobe. Bold patterns, customised pieces and detailed embellishment are just part of your every day go-to staples, and when it comes to your dresses you love to support independent brands and veer towards vintage or hand-made designs. This punchy print by the mother-daughter duo behind Bernadette – who work with custom, hand-drawn patterns – ticks every one of those boxes for you while keeping the overall shape simple with your preferred clean lines.
PISCES
18 February–19 March
THE FLOWING BEACH DRESS
There's no denying that you're happiest by the sea, which is why your wardrobe will forever lean towards a more bare-footed aesthetic. The perfect piece to throw over a bikini, your love for a floaty maxi dress like this patchwork one by Zara is no secret, while your romantic, pleasure-seeking traits see you happily lean towards rich reds and pinks. You might not be interested in snapping up practical pieces any time soon, but why should that matter when you intend on living out your days at the beach?
ARIES
20 March–18 April
THE LIMITED EDITION DRESS
You may love a trend, but nothing beats feeling like a trailblazer. The idea of a waiting list makes your heart skip a beat – if for nothing more than the thrill of knowing you'll own something that your friends won't. 'Limited edition' is another such buzz word for you, and you love to discover smaller independent labels ahead of others. This Kitri dress is perfect, therefore; an independent label, made-to-order in a limited run and it just so happens to be bang-on-trend with that collar, too.
TAURUS
19 April–19 May
THE TIMELESS LUXE DRESS
Some might think that *nothing* is good enough for fussy Taureans, but you lovers of luxury actually have a sure-fire sartorial hit list which guarantees a spot in their online basket. Super sumptuous fabrics are undoubtedly top of the menu, while timeless pieces tend to tick more boxes than fast-fix fashion. This slinky silk crepe de chine slip dress by The Row is just the ticket, with an effortless drape that will never go out of style.
GEMINI
20 May–20 June
THE CHAMELEON-LIKE DRESS
If you're a Gemini and you're struggling to settle on a summer dress style, it's no doubt in part thanks to your chameleon-like tastes. You love an eye-catching statement and aren't afraid of a print clash, but you'd be wise to opt for something super versatile like this Preen by Thornton Bregazzi midi – which can be dressed up with a heeled sandal and clutch bag or down with a sneaker and crossbody depending on your mood.
£595, Preen by Thornton Bregazzi, Buy It Now
CANCER
21 June–21 July
THE COTTAGECORE DRESS
We all know that you nurturing, security-seeking Cancers love your home comforts, but that's not to say that it's tracksuits all the way – even during peak lockdown. You're drawn to feminine, vintage-style pieces and are a huge fan of the current Cottagecore trend, which is why this floral & Other Stories dress – with its muted rose colour palette and gentle frills – seems like it was made just for you.
£95, & Other Stories, Buy It Now
LEO
22 July–21 August
THE UNSUBTLE SUNSHINE DRESS
Never one to sail under the radar, you Leos love to stand out from the crowd in sunshine colours and bold shapes. You're big on dressing for an occasion but aren't necessarily interested in 'trends', which only serves to broaden your horizons when it comes to making a statement. This apricot Rejina Pyo dress ticks all your boxes, with its shameless shade and punchy puffed sleeves almost impossible to miss.
VIRGO
22 August–21 September
THE DEADSTOCK ECO DRESS
Reliable, hard-working overthinkers, you Virgos may have perfectionist tendencies but when it comes to fashion you put your focus to good use in the conscious space. Innovative fabrics and sustainable initiatives really appeal to your clean-living vibe, which is why this ditsy floral-print wrap dress by eco label Christy Dawn made from deadstock fabric (excess fabric left behind by other fashion brands that would otherwise end up in a landfill) is right up your street.
£235, Christy Dawn, Buy It Now
LIBRA
22 September–22 October
THE FIGURE-FLATTERING DRESS
As a Libra you're known for being diplomatic and non-confrontational, so it's no surprise that you tend to avoid anything too brash and prefer to let soft, textured fabrics do the talking when it comes to your wardrobe. That's not to say that you always play it safe, however, and you're certainly not afraid to experiment a little with colour and print providing it doesn't veer too far from your comfort zone. This sign is associated with lower backs and great bums, so form-fitting body-con dresses like this Zara knitted maxi make an ideal choice.
SCORPIO
23 October–21 November
THE LOW-KEY SEXY DRESS
You're not interested in punchy colours or flouncy frills. Being the zodiac's most mysterious sign you're more likely to opt for a more subtle take on summer dressing, which works well with your natural sex appeal Minimalist lines and muted shades – usually black, let's be honest – pack a real punch when worn by a Scorpio, and this Jacquemus number with its open back and side-split really speaks to your soul.
SAGITTARIUS
22 November–20 December
THE MAGPIE DRESS
A magpie with even the sharpest eye has got nothing on you. Devoted to all things sequinned, you freedom-loving fans of spontaneity have a real lust for travel and festivals which ensures your wardrobe as a naturally boho vibe. This Ashish mini dress has enough glitz to satisfy (yes, even you!), while the loose silhouette appeals to your loyalty to the classic kaftan shape.
For more from Glamour UK's Fashion Editor Charlie Teather, follow her on Instagram @charlieteather.
The dreamiest date ideas based on your star sign (and it's champagne bars for Taurus and sunset strolls for Scorpio)